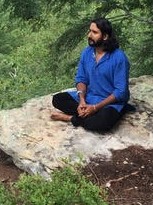 Avinash from India will share his personal experiences and understanding of Meditation.
Avinash Ramakrishna Began Ahamo Foundation of India in the year 2014, with the vision of helping individuals overcome the limitations of fear, stress, boredom and anxiety to move them towards inner freedom, love and compassion. Ahamo transforms the lives of individuals through the time tested systems of Meditation, Yoga and Service. Ahamo USA is based in Crab Orchard Tn.
This session will be on November 11th at Nature's Way on Peavine Road. It will be from 10-11am and will cover topics such as methods of meditation and the mind-body connection.
Seating is limited to 20 participants, so it is important to RSVP – ASAP by calling or texting Nature's Way at
(931) 335-2866.